The official STYLE Week Charlotte event, Say Red: Cocktails and Conversations was an extraordinary experience. The evening included appetizing hors d'oeuvres, the delicious "Red Pump" martini and most importantly, informative and interactive conversations about the issues surrounding HIV/AIDS in our community.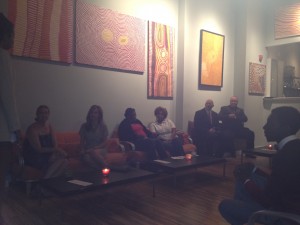 Once guests arrived at the swanky Kanvas Wine Bar & Art Gallery in the heart of Uptown wearing fabulous red pumps and ties, they were greeted by the smooth sounds of jazz music and the colorful and unique display of artwork that graced the building. During the cocktail hour, everyone had the opportunity to network with great people in a fashionable, yet social atmosphere. An array of hors d'oeuvres were served and washed down with the signature "Red Pump" martini, which all of the attendees loved.
After the cocktail hour, it was time for the conversations to begin. The Red Pump Project-Charlotte Ambassador, Jameka Whitten, and Red Pump Rocker, Ashley Roseboro facilitated the discussions. Once everyone was gathered together for intimate conversations, the facilitators took turns choosing a participant in the audience to select a particular card with a provocative discussion question on the back. The questions were interactive and the crowd was engaged in each topic. Men and women shared various opinions and personal outlook on the topics discussed. In fact, the involvement was so strong that one participant expressed her own personal battle with HIV.
"Say Red: Cocktails and Conversations is continuously a big hit, because we create a social environment where all types of people can gather together for open and unfiltered conversations on HIV/AIDS and how it affects our community," explains Whitten. "Whether you believe it or not, it has affected each of us in some way."
The proceeds of this event went towards supporting Team Red Pump-Charlotte for the May 5th AIDS Walk benefitting RAIN (Regional AIDS Interfaith Network). To get more information on events that are hosted by The Red Pump Project-Charlotte, or to join their team as walk in an effort to find a cure for HIV/AIDS, please send an email to Redpumpcharlotte@theredpumpproject.org. Visit www.redpump.org for more.