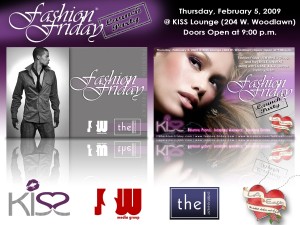 Fashion Friday, JSW Media Group, and the|ENTERTAINMENT
in association with KISS Lounge and LA East Boutique
cordially invite you to:
Fashion Friday: Launch Party @ KISS Lounge (204 W. Woodlawn)
Join us on Thursday, February 5, 2009 for the official release of Fashion Friday's website and the announcement of the designers we will feature for the year. Come learn what we have planned for all of 2009, trust us, you don't want to miss this unveiling…Beautiful People…Incredible Ambiance…Luxurious Setting
If you love fashion and style, this is where you NEED to be.
Doors Open at 9:00 p.m. Complimentary Entry before 10:00 p.m.
Models w/Comp Cards Free all Evening.