The Red Pump Project's Annual Red Pump/Red Tie Affair Celebrates  Nine Years in Charlotte on Dec. 2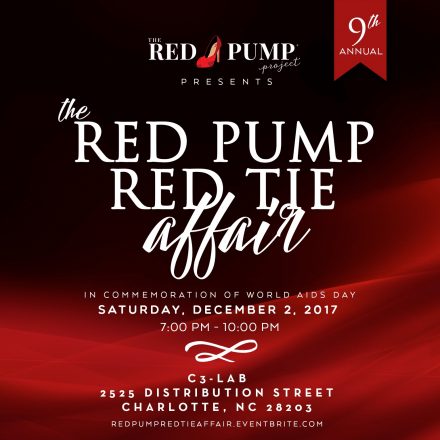 The Red Pump Project's Annual Red Pump/Red Tie Affair will commemorate World AIDS Day 2017 on Saturday, December 2 from 7:00 p.m. until 10:00 p.m. at C3-Lab located at 2525 Distribution Street in Charlotte's South End neighborhood. The Affair, which is presented by Red Pump Charlotte, fuses fashion and philanthropy while bringing awareness to the impact of HIV on women and girls of color in the greater Charlotte and surrounding areas. Tickets are available for purchase online at redpumpredtieaffair.eventbrite.com.
The Affair will honor a female community leader who has dedicated her time and energy to fighting against HIV. Each year, The Red Pump Award is given to a woman who personifies what The Red Pump Project is all about—delivering education and promoting awareness. This year's Red Pump Award recipient is Michelle Reese, who is the Director of Clinic Improvement Services at SHIFT NC (Sexual Health Initiatives for Teens of North Carolina). Reese has spent the past 20 plus years serving others both locally and nationally to remove barriers to sexual and reproductive health. She has extensive experience working in the public health arena in the areas of HIV prevention and education, testing and counseling, adolescent pregnancy prevention, substance prevention, youth development, and improving access to contraceptive care. Past Charlotte Red Pump honorees include Solita Jefferies (2016), Hannah Stutts (2015), Rev. Deborah C. Warren (2014) Tarsha' Hamilton (2013), Geneva Galloway (2012), Joanne Stevenson Jenkins (2011), Dee Dee Richardson (2010) and DeVondia Roseborough (2009).
Attendees will have the opportunity to mingle on the red carpet, socialize during the cocktail hour sponsored by Olde Mecklenburg Brewery and "party with a purpose" with special invited guests including some of Charlotte's most notable entrepreneurs, philanthropists, media personalities, socialites and tastemakers. The Affair will be co-hosted by Hip Hop Legend and entrepreneur Ed "Special Ed" Archer and media personality and author Vivian "Gossip Viv" Billings.
Ticket prices range from $50.00 to $75.00 per person. In addition to the live entertainment and fashion presentations planned, there will also be a silent auction where 100 percent of proceeds will benefit those living right here in the Queen City through a variety of programming initiatives planned for 2018, including one of Red Pump's most popular programs Cupcakes and Condoms. Cocktail attire is required. Red pumps and red ties are strongly encouraged.
For interviews and other media inquiries, contact Jameka Whitten at Jameka@redpump.org or 704.965.3297. To learn more about Red Pump, visit www.redpump.org.
About The Red Pump Project®
The Red Pump Project ® is a national non-profit organization that raises awareness about the impact of HIV on women and girls. We empower, educate, and motivate action by boldly driving conversation online and offline around HIV prevention and issues related to sexual and reproductive health. We use the Red Pump as a symbol of empowerment to represent the strength and courage of women affected by HIV. Red Pump believes that if HIV affects one, it affects us all. We use a powerful symbol for a powerful cause. The incorporation of fashion into the message of HIV prevention is our contribution as we hope to show that Awareness is Always in Style!  www.redpump.org.