The New Digital Cookbook Features Soul Food Favorites from The Acclaimed Vegan Chef
CHARLOTTE, NC – (June 3, 2020) Adjoa Courtney, known professionally as "Chef Joya," has released the first volume in a series of e-cookbooks featuring the imaginative vegan and plant-based cuisine that have helped Chef Joya gain steady popularity across the United States, particularly in the Southeast region. Cooking With Joya: It's Soul Mahmazing, Vol. 1 includes 23 mouth-watering vegan recipes with Chef Joya's inventive take on traditional soul food dishes.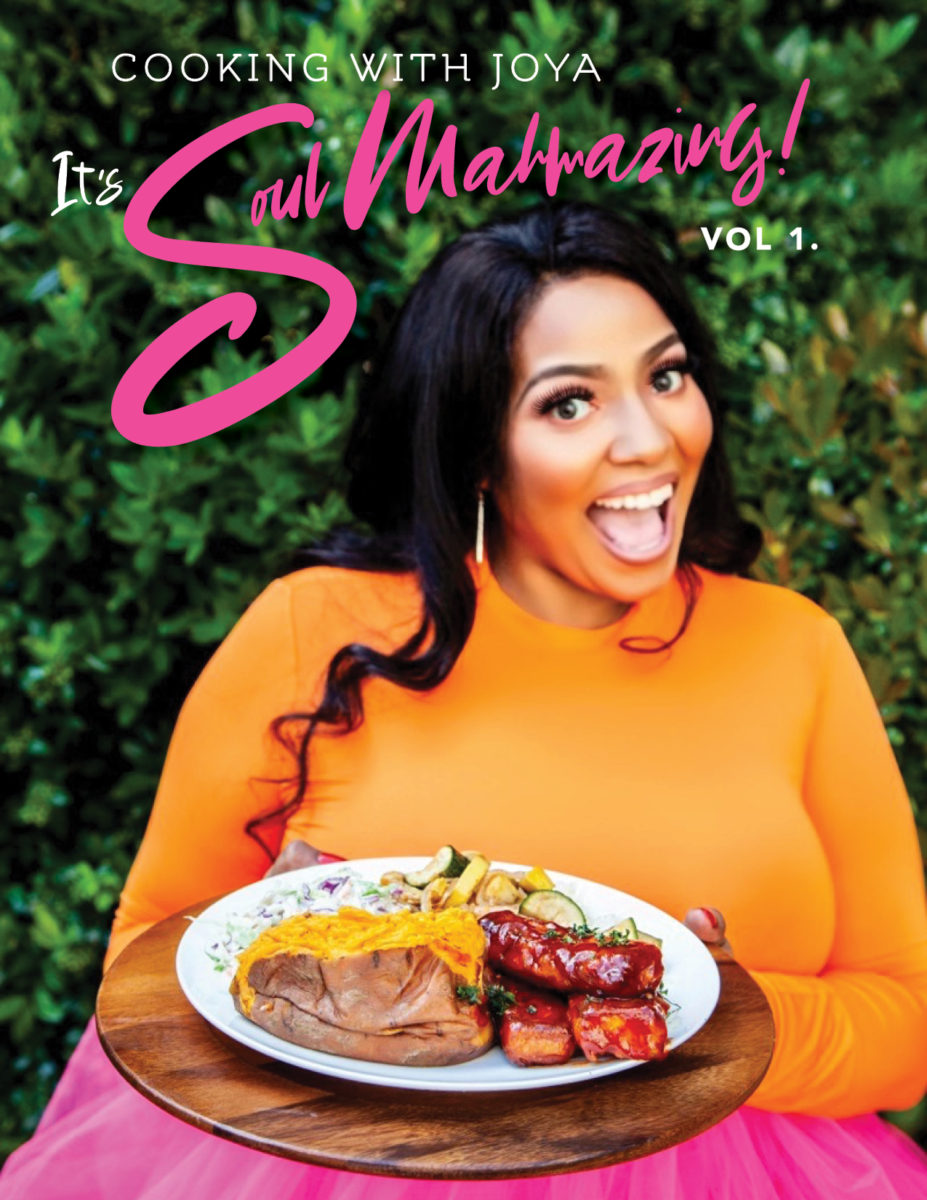 "Mahmazing," coined by Chef Joya, means more than amazing and describes her cooking style perfectly. Part of the reason why Chef Joya decided to name this volume of her book It's Soul Mahmazing is because of the feedback she has received about her food since she became a full-time vegan chef only two short years ago.
"I'm always surprised by how many people show support for what I do," explains Chef Joya. "It makes me smile every time someone tells me that my food is amazing, even magical. I enjoy showing love through my cooking, and so many people have asked me to write a cookbook, so I figured it was finally time to make it happen."
The cookbook features stunning food photography by Jonathan Cooper of Coopernicus Photography and the design work of graphic and visual artist Vashti Crowell-Fowler.
A few of Chef Joya's most trusted family recipes in this volume include the following:
Not Your Mama's Meatloaf
Southern-Fried Fysh
Jalapeño Cornbread
Grandma's Potato Salad
Mama's Black & White Greens
More than just a simple cookbook, Chef Joya provides a variety of expert tips, techniques, and resources unique to the art of vegan cooking, all in an easy-to-follow format for even those who are brand new to preparing plant-based meals.
Cooking With Joya: It's Soul Mahmazing Vol. 1 is priced at $24.99 (ISBN 978-1-7168976-8-9) and is available on Chef Joya's website and online store. For appearances, media inquiries and interview requests, contact Jameka Whitten at pr@cookingwithjoya.com or 704.965.3297.
About Chef Joya
Adjoa Courtney aka Chef Joya, who was introduced to veganism at age seven, is an award-winning plant-based chef based in Charlotte, NC who specializes in vegan cuisine incorporating Soul Food, Afro-Caribbean, French and African cultural influences. Chef Joya Has recently been named both best chef and best vegan chef in Charlotte (by Queen City Nerve Alt. Weekly) and is arguably one of the best vegan culinary artists in all the United States. She is revered by both vegans and non-vegans alike. She is also known for helping her clients' transition and is famous for her ability to "veganize" almost any dish that traditionally contains meat and animal products–she is the queen of transitioning meat-eaters to plant-based living. Her popular pop-up dinners and monthly private events routinely sell out. For more detailed information about Chef Joya's work, honors, awards, and accolades can be found via www.cookingwithjoya.com. Full media kit available upon request.