Los Angeles, CA  — Actress, model, motivational speaker and emerging media personality, Brittney Q. Hill is one of the new faces of Afterbuzz TV, a digital broadcasting network that produces news and after-show recaps for various television shows weekly. Hill is already making a significant splash as one of the network's fresh new hosts;  her debut appearance premiered via live stream on August 28 to more than 250K subscribers as she and her co-hosts provided comical and entertaining insight on VH1's "Love & Hip Hop Hollywood". Hill, who is already a standout talent on the show, is quickly becoming a favorite on the online network.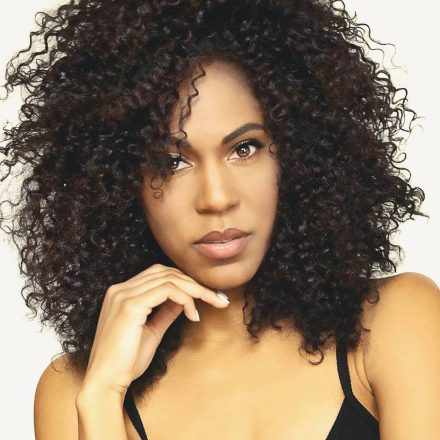 To keep her theatrical acting chops fresh, Hill recently starred in her third Hollywood stage play on September 2, "Life Stories," written and directed by Don B. Welch. Hill played the role of Sylvia and received fantastic reviews about her performance.  In addition to hosting assignments and theatre roles, Hill also starred in the short action film, "Chase" written and directed by Rich Laru where she played the role of Detective Amanda Williams. Hill also landed a recurring role on Amazon Prime's "Solitaire" which is scheduled for a Winter 2018 release. She plays character Tamika Price in the series.
The former Miss Greater Inland Empire 2015 and Miss City of Los Angeles 2014 is a native of Los Angeles, but was raised primarily in Tucson, AZ and Winston-Salem, NC. Hill is also a traveling motivational speaker under the mentorship of Ervin "Magic" Johnson.
You can follow Brittney's journey on Twitter and Instagram @BrittneyQHill. For bookings and business-related inquiries, contact her manager Kim Jago at 212.465.3995 or LA@jagociro.com. For personal appearances, media inquiries and interview requests, contact her publicist Jameka Whitten at 704.965.3297 or Jameka@jswmediagroup.com.
About Brittney Q Hill
Actress, Model, Host, and Motivational Speaker, was born in Los Angeles, CA but raised primarily in Tucson, Arizona. Brittney later moved to Winston Salem, NC, with her mother at the age of fifteen, which is where she first began her entertainment career in modeling. After graduating from high school, Brittney moved to Charlotte, NC to complete her undergraduate studies, which is where her passion for acting blossomed, while taking her first course in Theater. Upon completion of her studies, she received her Bachelor of Arts degree in Mass Media Communications and a minor in Film from The University of North Carolina at Charlotte. A year later, Brittney moved back to the west coast, to further pursue her career in the major entertainment hub of Hollywood, CA. As an Actress, Brittney has starred as the Female Lead in multiple films including "Spoken," "What Now," and "Shifting Gears." She has also made several appearances in supporting roles in many short films, stage plays, and web series such as "Daddy's Day," "Escorts," and "The Living Quarters" just to name a few. As a model, she has been featured in magazine spreads, print ads, and has graced the runways from coast to coast. www.BrittneyQHill.com