Images communicate your brand before words do.
We live in a society that is consumed by images; images of someone's night out on the town, a fashion blogger's outfit, food that's styled to perfection and celebrities with their endless charades of style concerts. We're bombarded by images that excite the senses and inspire us, often telling the story of our lives. We consume these images at such a rapid pace that if you are not on your "A" game, your brand will fade into the background (and who wants to be bland and basic anyway?) That's why it's important, now more than ever, that the imagery for your brand be both top notch and intentional. Images speaker louder than words and are often your biggest selling point.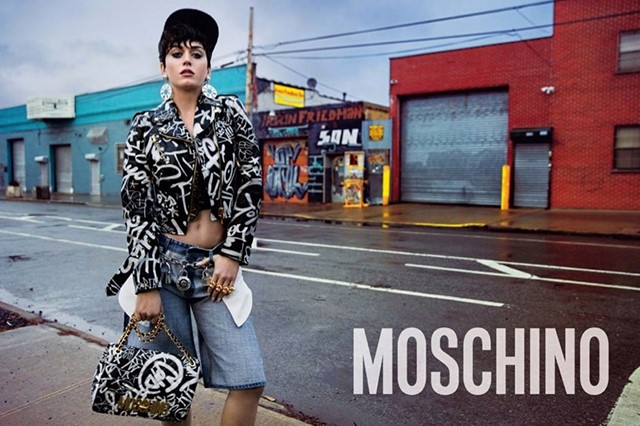 Let's take MOSCHINO for example, it is a brand known for outrageous color combinations and the use of celebrities that turn heads for their ever-changing style. The collections have a severe focus on pop culture that keeps the brand fresh among his millennial customer base as well as the eccentric bunch that stands out rather than blends into the general population. It is a brand that is in your face, non-conforming and street savvy, words that were very fitting for its Fall/Winter 2015 campaign. That campaign featured pop icon Katy Perry, who has never been afraid to step out of the norm, in bold prints and colors set against the backdrop of urban streets; she portrays and embodies the brand as the fearless eccentric. Think about it, a brand that thrives from the bold and fearless, would look a bit crazy if they went with a more regal optical representation instead of one with attitude and personality, it would have created a complete disconnect and confusion for their current (and loyal) customer, ensuring that that customer would have lost trust in the brand.

Another fabulous example is Krislian from the 23rd cycle of America's Next Top Model, known for her flawless Instagram profile, won "best photo" from the PAPER Magazine event. The contestants were given a smartphone, and a brief to create a story of the night that would be posted to social media, they were to edit and choose three images that fit the story. The event was for PAPER Magazine, an eccentric and fearless fashion magazine known for its daring editorials and unapologetic photography. Kristin composed images in a way that didn't just tell a story, but a brand story. The images focused on the fashion and she utilized her physical surroundings to help with the overall story. As a model, her three images could easily be social ads for a major retail brand, but also show what the Krislian personal lifestyle brand is all about.
Be intentional!
Images have always been a key aspect to any business, but with society's insatiable appetite, we should be on the cusp of what is new and bold at all times. We must ask ourselves "What will connect with our reader?" or "How can we connect with our customer more?" Images allow us to answer these questions, connect with our readers and consumers and tell our own story. They help a brand tell its brand story and create trust among the consumer and reader. So, before you post an image because it looks cool or seems different, ask yourself if it tells your story and if it connects with your audience.
Ben Clark is JSW Media's Brand Manager and Co-Creative Director and talented Freelance Photographer. In addition, he is Southern gentleman with a rocker soul who loves a good whiskey sour, sweet tea connoisseur and husband to an amazing woman. 
Note: copyrights belong to the respective owners of all photos. Posting does not constitute ownership of any images.