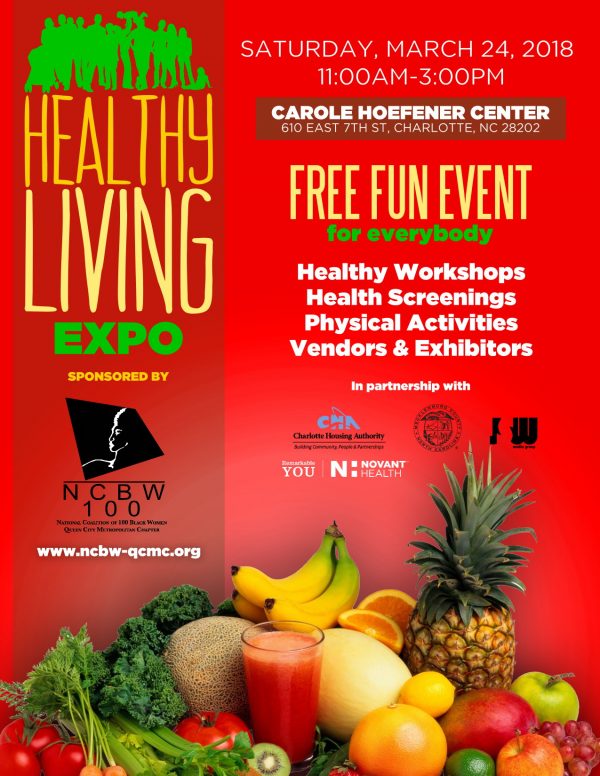 2018 Healthy Living Expo: Free Family Fun on March 24
The National Coalition of 100 Black Women Inc., Queen City Metropolitan Chapter's 2018 Healthy Living Expo Brings Free Healthy Workshops, Health Screenings and Physical Activities for Individuals and Families in Charlotte   
The National Coalition of 100 Black Women Inc., Queen City Metropolitan Chapter (NCBW-QCMC) will host the third annual Healthy Living Expo on March 24 from 11:00 a.m. until 3:00 p.m. at the Carole Hoefener Center (610 E. Seventh Street) in Uptown Charlotte.
NCBW-QCMC's Healthy Living Expo is designed to directly align with the larger organization's national health priorities. The expo will touch on three of those priorities specifically—to eliminate disparities; prevent/decrease mortality; and improve health outcomes /access to affordable health care among African Americans. In turn, the expo will feature an entire day of fun, family-friendly and exciting activities including health screenings, physical activities, vendors, exhibitors and a variety of healthy workshops.
The following are some of the featured workshops and presentations currently planned for the expo:
Silent Disco Workout
Healthy Eating Food Prep Demonstrations
Health Screenings by Novant Health
The Healthy Living Expo is open and free to the public. Event partners include Charlotte Housing Authority, Mecklenburg County Health Department, Novant Health and JSW Media Group. To register and for general information, visit www.ncbw-qcmc.org.
For media inquiries or to schedule an interview with event organizers, contact Jameka Whitten at 704.965.3297 or jameka@jswmediagroup.com. On-site interviews will also be available.
About The National Coalition of 100 Black Women, Inc., Queen City Metropolitan Chapter
The National Coalition of 100 Black Women, Inc., Queen City Metropolitan Chapter is a non-profit organization that advocates on behalf of women and girls of color. The organization focuses on empowering women to be leaders in their community and careers.  The Coalition serves as a change agent through advocacy work to influence public policy that promotes gender equity in health, education and economic empowerment. www.ncbw-qcmc.org.